Announcing The Whickers' 2022 Close Up Emerging Director's Bursary Winner
A brand new documentary funding award for filmmakers in Southwest Asia and North Africa has been created by The Whickers in partnership with Close Up Initiative. Following the 2021-2022 Close Up annual programme, we are delighted to announce the winner of this year's £3,000 bursary.
For safety reasons, we are unable to publicly share details about the winning project, which will be directed by a first-time director working under the pseudonym Mohammad Mohammad. Artistic Director of The Whickers, Jane Ray shared these words:
"The 14 projects selected for the Close Up Initiative this year are incredibly strong. It was a great privilege to meet such a diverse selection of talented filmmakers who had been nurtured and guided by four of the best mentors in the business: Bruni Burres, Gitte Hansen, John Appel and Nino Kirtadze. It is therefore the mother of all understatements to say that it was "not easy" to choose one for our inaugural bursary award. In the end we opted for the only one we actually can't talk about, at least, not yet. At this stage all I can say about 'Hollywood Gate' is that it's an observational story from the Middle East about the things we leave behind. This first time documentary feature director has some exceptional footage and we realise how hard it must be to get development funding for a projects that cannot be openly discussed. We hope that our bursary helps to move it to the next stage and we are so excited to play a small part in this journey. Watch this space!"
Upon hearing the news the director, Mohammad Mohammad responded: "Thank you all so much. I'm in tears because that description Jane just shared means a lot. It's really hard to finance such a film knowing that a lot of people want to see it, but cannot. It really means a lot to us receiving such an award and I also want to thank Close Up. I hope that in the near future I can reveal myself and meet you all in person."
In an emotional online award ceremony Tereza Simikova Head of CPH:FORUM, CPH:DOX's main financing and co-production platform also gave prizes to Bridge, a powerful essay and archive film about the history and meaning of the first bridge to cross the Bosphorus to Istanbul. This is being bought to life by renowned Turkish team Deniz Tortum and  Fırat Sezgin. Tereza also awarded The Governor a brave and deeply personal film from emerging talent, Danel Elpeleg, which explores the conflicted legacy of her grandfather, the first governor of the Arab citizens of Israel after the establishment of the state, and Radio Berlin. This revelatory archive film show how Iran fell under the spell of a nazi propaganda station that carries consequences right up to the present day. It is the brainchild of Iranian duo in exile Sepehr Atefi, and  Kaveh Azarhoosh. 
The Whickers were delighted to see two of their treasured alumni at Close Up: Jordanian doc maker Asmahan Berkat was there, putting the finishing touches on her wonderful nomad family portrait film Concrete Land.  Kamay's Ilyas Yourish was also taking part. He was giving producer support to Khadim Dai with their new, stunningly beautiful and arresting project about 'Hazara Town'. The is the nickname for the ghetto housing Afghanistan's Hazara refugees in the Pakistani city of Quetta, as seen through the eyes of its children.
Close Up was due to be held in Izmir, Turkey, this week but needed to move online at the last minute due to participants running into visa problems. There will be a second pitching forum held on the 20th and 21st June for Close Up's New York based partners, such as Chicken and Egg Pictures, the Jacob Burns Film Center and The Silver Sun Foundation.
Find out more about the bursary scheme HERE.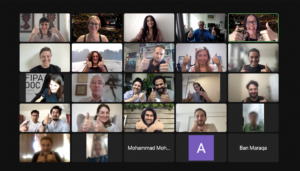 Above: The 2022 Close Up Programme Participants and Mentors.