Announcing The Whickers' 2023 Close Up Bursary Winner
We are delighted to announce the winner of our bursary in partnership with Close Up Initiative, now in its second year. Ali Özkul, the director of One of Those Creatures, was announced as the winner of the £3,000 bursary at Close Up's excellent Workshop and Pitching Forum in Tbilisi, Georgia.
Close Up is a training, development, and mentorship program for documentary filmmakers from Southwest Asia and North Africa. The Whicker Bursary is seed funding towards a first-time filmmaker unlikely to receive funding from their host nation for economic or socio-political reasons.
One of Those Creatures is a body-thriller documentary that explores the relationship between identity and the body through the journey of feeling vulnerable as a bodybuilder. Emre is 29 years old, living alone in the apartment where he was born and raised as the only child of a conservative family in Istanbul. As a national bodybuilder and personal trainer, he is unhappy with his lifestyle. In search of a motivation he was looking for in this process during which he lost 18 kilos, his hopes are turned upside down by the global pandemic.
Jane Ray, Artistic Director at The Whickers who presented the award in Tbilisi, said: "This is a story that has been several decades in gestation. Two boys united by the loss of a parent and their love of the movies, growing up together and finding different ways to present themselves to an often cruel and judgemental world. This is a creative documentary steeped in tenderness and insight".
Ali Özkul, Director of One of Those Creatures said, upon hearing the news: "Even just being here [at Close Up] was such a privilege for me, so I couldn't imagine this. I would like to thank all the beautiful souls here. Believe me: there are still good people in this world".
Find out more about the bursary scheme HERE.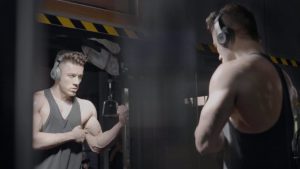 Above: an image from Ali Özkul's film One of Those Creatures