RAFA and Sage Finalists Announced
It's safe to say that it's been a month of important announcements over here at Whicker's World Foundation. Today marks our last round of finalists for 2017 in the RAFA and Sage categories. Once again we were incredibly impressed the quality of applications and want to say a huge thank you to everyone who applied.
This year's Radio and Audio Funding Award finalists will be pitching in front of a live audience at RAD/FEST on May 23rd for the chance to win our first prize of £5000 and runner-up grant of £2000. For tickets to our exclusive event at the British Library, get in touch with us on info@whickersworldfoundation.com.
The winner and runner-up for this year's Sage Award, a recognition grant for first time documentary makers aged 50 or over, will be announced alongside the winners of our £80k Film and TV Funding Award at Sheffield Doc/Fest in June.
Over to the finalists…
The Radio and Audio Funding Award 
Michelle Thomas: I'm Not OK, The Mental Health Podcast
This serialised podcast documentary is a journey through the world of mental health as Michelle Thomas uncovers the common ground that unites us through our personal struggles. Exploring the stigma, anxieties and social pressures that define our modern age through a series of powerfully honest chats with an array of unique voices, this series will create a unique space in which contributors can tell their personal mental health stories. From Aaron who describes his severe panic attacks as "like a migraine in the chest" to Taryn who became a bodybuilder in her quest for the "perfect" figure, this promises to be a frank and important look on one of the epidemics of our time. 
Judge Fi Glover said: "We thought this to be really ear catching audio detailing how episodes of poor mental health actual feel and how talking about it really helps – we felt this was a refreshingly open approach, the contributors were articulate and willing to share their thoughts on a very difficult subject without embarrassment or fear.'"
David Adams: Foot and Mouth 15 Years On
The key characters in this programme are the farmers of the Yorkshire Dales, a secretive lot whose stories have remained largely untold- until now. In 2001, foot-and-mouth disease swept across the British countryside devastating farmers and their families and causing the slaughter of over 10 million cows and sheep. Foot and Mouth 15 Years On aims to give exclusive insight in to the lives of those worst affected, from auction managers and farmers to the children of farming communities whose lives have been forever changed by the tragedy.
RAFA judge Rob Ketteridge said: "We were impressed by the producer's close access to farming families in the area and the rich seam of original stories this offers, together with his proposal to focus on those who were children at the time – has it bound them more tightly to the community in which they were born or pushed them away towards different ways of making a living?"
Victoria Ferran: Searching for Slave Wrecks
 In 2005, a group of African American scuba divers formed the group Diving With a Purpose. Their aim was to find and document the sunken ships used to transport slaves during the heart of the slave trade across the world. Producer Victoria Ferran will travel with them on their latest mission off the coast of Florida, where they are searching for the Cuban slave ship Guerrero, sunk in 1867 with 561 African slaves on board. This doc idea promises to delve in to the world's maritime history and reveal some shocking facts about the mysterious vessels that have been left out of the history books.
Judge Alan Hall said: "The potential in this story for shifting our understanding of a terrible chapter in history is immense." 
Tom Glasser: Sounds Inside
Being imprisoned for the first time, many inmates are surprised to discover that they are not only cut off from the day-to-day business of the outside world, but also transported to an entirely alien world of sound. In the company of ex-con Carl Cattermole, this programme will take the listener into this unique acoustic world and explore whether prison buildings are still being used as the punishment themselves. Sounds Inside will spend 24 hours inside HMP Brixton, exploring a unique soundscape from the slamming of metal doors to the silence of the harsh Dickensian architecture. 
Judge Alan Hall praised the programme as "a fascinating subject explored through a compelling character, rich in sound potential." 
Jodie Taylor: A New Normal: Audio Diaries of Syrians in Europe
A New Normal is a series of audio diaries made by Syrians who have recently arrived in Europe, offering an unusually intimate insight into an experience that most will only know of through news coverage. Via in-situ first person accounts of diarists' day to day experiences as they try to set up a new life, this project hopes to give listeners some idea of the small details – including the daily mundanities and absurdities – of starting anew in an alien country having left everything you know behind. The project is led by Jodie Taylor from SE15 Productions who alongside producers Olivia Humphreys, Andrea Rangecroft, Astrid Hald and Carol Nahra will work with diarists in Germany, Sweden, Greece, Turkey and the UK.
Judge Fi Glover said: "'We felt that, although many stories have been told of the life of the refugee, this promised us a moving and insightful account of the reality of establishing a whole new life in a strange country, we liked the tone and the depth we heard in the audio pitch."
The Sage Award
Roy Delaney: The Bard's Wife
Wes White is the Bard of Glastonbury, an honour going back centuries that he won at a poetic battle in the heart of this historic Somerset town. As spring approaches, he must organise the competition to find his successor, but he's got something else on his mind. Following a piece of government legislation, his American wife Erica was unable to obtain a visa to live in the UK and he must find a job that will earn him the required salary to get her back. This short doc follows Wes as he makes the tough decision- give up the job he fought for or risk losing his wife? 
 Judge Valerie Kleeman said this mini documentary was "sweet and gentle" with judge Jane Mote adding her admiration "that a first-time film-maker could get deep inside a world we don't see often – the bards and Glastonbury scene, this film has an unusual twist on a one of the biggest stories of our time, immigration."
Steven Carne: My NHS, Voices from the Grassroots
MY NHS touches on another massive story of our time as a group of ordinary people attempt to take on the might of government and save the National Health Service. Through the eyes of a working class mum from Darlington and founder of 999 Call for the NHS – Joanna Adams – the film reveals the hope, hurt, effort and disappointments members of the public face when they unwittingly step into the political arena. A moving and insightful documentary that keeps the Whicker spirit of inquisitiveness very much alive, we can't wait to meet filmmaker Steven at Sheffield this June.  
Jane Mote felt this was "A clear story and attempt to get underneath about an apolitical group and people frustrated enough with politics to try to form a grassroots organisation – at great personal  cost. The filmmaker really throws the light on the lead character – an ordinary NE Mum who feels so pained by the threat to the NHS that she risks her husband, family and health to stand up for her beliefs."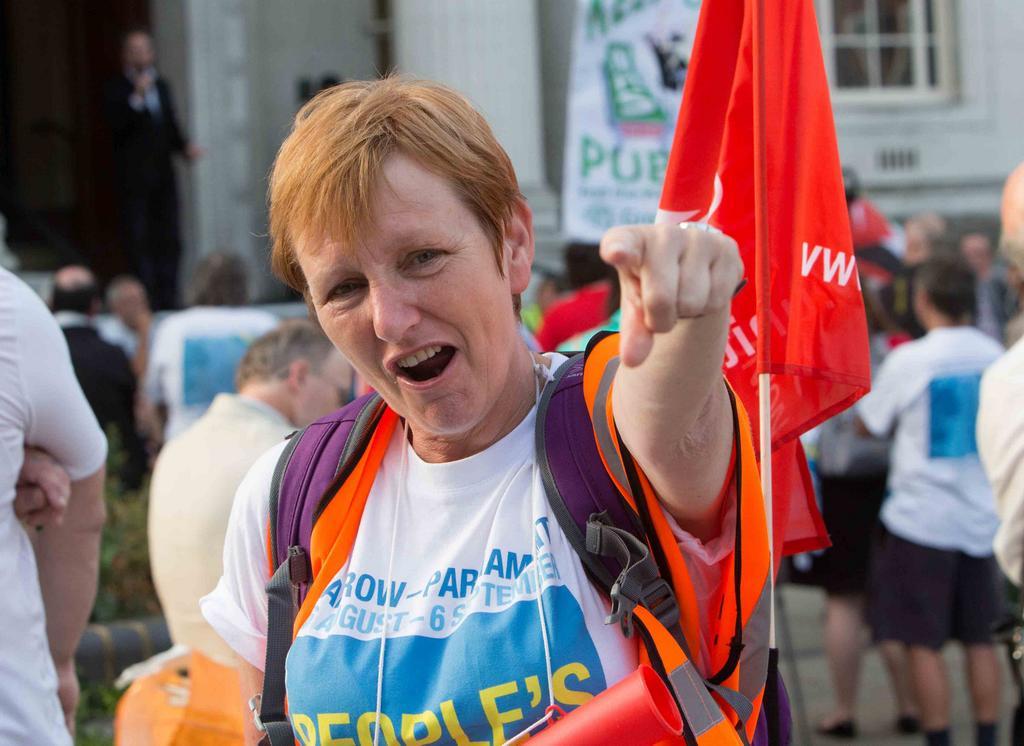 Keep an eye on our Twitter, Facebook and Instagram accounts for updates on next year's awards opening in fall 2017.