RAFA 2020: Special Mention
We were so impressed by the high-standard of applications this year that we were hard pressed to pick just five finalists. The Chair of our Awards Committee, Valerie Kleeman was so thrilled with the overall quality that we decided to award a £500 development prize to our two deserving projects, as well as a place on our Whickers Audio Inspiration Lab.
NO ORDINARY JOE
Éamon Little's journey began when he was introduced to Joe, a football and yoga mad, holocaust surviving, racehorse owning, 102 year-old honorary Irishman from former Prussia. And boy, has he got a story to tell! It took Éamon two years to convince Joe to give an interview, but now he's finally ready to lay it all out.
Producer: Éamon Little is a radio documentary maker living with his wife and two children in rural Galway in the west of Ireland. He also writes screenplays, records sound for films and makes his own documentary films.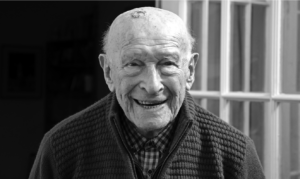 OWNING OUR MADNESS
Our second runner-up, Sherando Ferril Cupid, shares her story from the opposite side of the Atlantic. We were impressed by her fresh and vibrant voice, as she explores how myths about mental illness in Jamaica are holding back treatments and acceptance in her homeland. Sherando breaks down the cultural beliefs and misunderstandings that madness is a form of sin, ill discipline, or a Voodoo curse.
Producer: Sherando Ferril-Cupid has over 25 years of experience producing audio and visual media in the Caribbean and across the globe. Her passion for the human condition is reflected in every piece of work she creates.