Remembering Dick Fontaine: "Death of A Revolutionary"
We were very sad to hear of the death of legendary filmmaker and inspired tutor Dick Fontaine on 28th October. "Death of A Revolutionary" was the title of his 1972, 30 minute documentary but could also be applied here.  Over a career spanning more than four decades, Dick Fontaine produced, directed and wrote more than 40 documentaries and fiction films. He was a pioneer of the television documentary industry, helping to shape investigative television journalism with World in Action and push the boundaries of the documentary form. It was something that his contemporary, and our founder, Alan Whicker much admired. Running from 1963 to 1998, World In Action exposed corruption and underhand dealings within British politics and the criminal justice system. 
Dick was also the first filmmaker to introduce techniques of Cinema Vérité to British television. From The Beatles, to top model Jean Shrimpton and British journalist James Cameron, Dick's films delved into the lives of the most popular cultural icons of the 1960s. His background in music led him to produce films with Art Blakey, John Cage, Johnny Rotten, and other musicians, which sought to explore culture through music. Dick has made various films about the inspirations of iconic jazz artists and the transformation of African American popular music.  
In 1995 Dick 

took the role of

Head of MA Documentary Direction at the National Film and Television School (NFTS) where he famously appeared as himself in

in Joanna Hogg's 2019 semi biographical film The Souvenir.
With his penchant for dapper clothes, classy motors, cool Jazz and Motown, Dick Fontaine injected some much needed glamour into our lives.
He was also amazingly supportive to us at The Whickers. He gave us our first ever Whicker Film interview in December 2015.
In those days Whicker staffer, Robbie Pyburn was a raw recruit just out of film journalism college (now he is an internationally renown videographer with his own business.) Dick was endlessly patient with both of us. We filmed him in the confine of his office, which was piled from floor to ceiling with film canisters: a life's work. In the interview he talks about working alongside Alan Whicker. It was a joy. Afterwards we shared a packet of Bourbons (the biscuits not the booze) and from that moment we were fans, and he attended our events whenever he could. He was kind and funny and we shall miss terribly. Our hearts go out to his partner Gugulethu Mseleku and his two sons, Daniel Fontaine and Smokey Fontaine.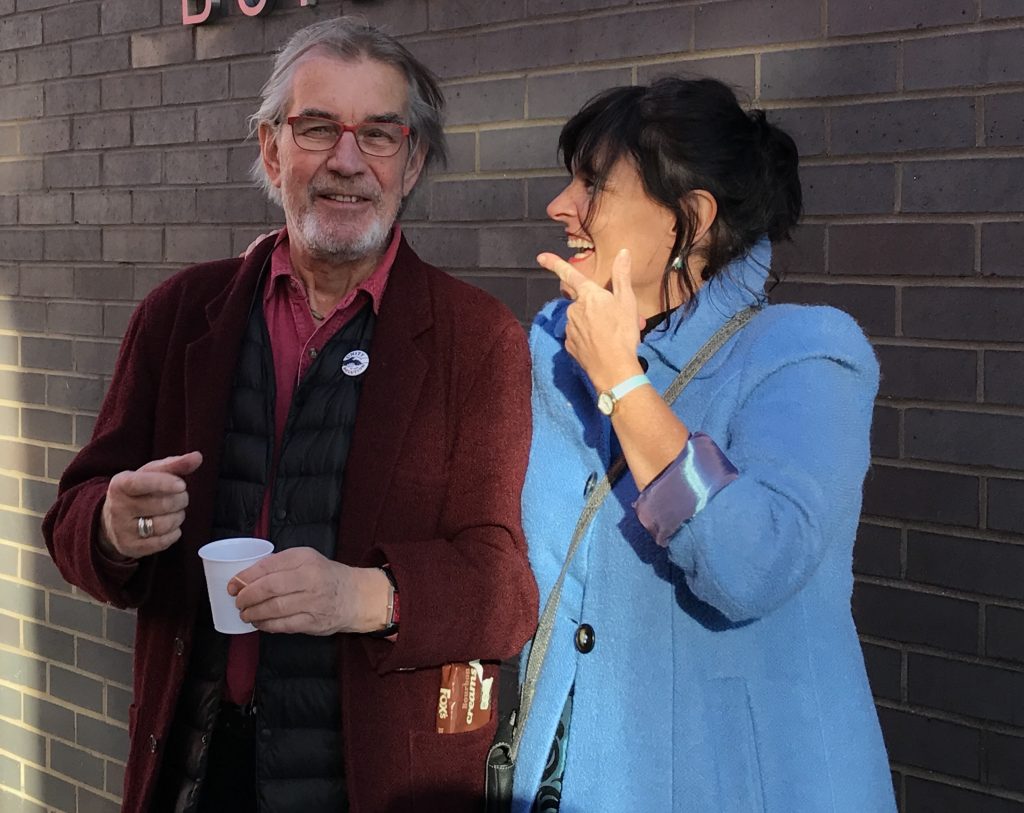 Dick Fontaine, Jane Ray and a packet of Bourbons (NTFS 2015) – Photo credit, Robbie Pyburn.