Remembering Parky, 28th March 1935 – 16th August 2023
It is with great sadness that we learnt of the death of Alan and Valerie's friend Sir Michael 'Parky' Parkinson. The British journalist and broadcaster says he honed the skills that made him famous as a celebrity TV interviewer from studying Alan's technique. Later they became friends. Alan, Valerie, Michael and Mary spent Christmases together and Michael gave a moving tribute about his "inspiration" at Alan's memorial service at London's Grosvenor Chapel in May 2014.
Valerie remembers his enduring kindness. The son of Jack, a Yorkshire coal miner who Michael adored, never forgot his roots, or how life might have turned out for him is his dad hadn't edged him away from a life down the pit.
In the run up to, what would have been, Alan Whicker's 100th Birthday we approached Michael to see if he would like to participate in a special event being held at the BFI. His family were not convinced that the great man, by then in his late eighties was up to making the journey. It was decided instead that we would visit Michael at home so that Jane Mote could pre-record an interview with him in his gorgeous Berkshire garden. It was a beautiful day. Mary was a generous host and Parky was on top form.
You can watch the full interview here.
As it turns out this was just the warm-up. Lo and behold, a couple of weeks later, he showed up at BFI Southbank looking incredibly dapper in a charcoal grey suit and brilliant silk tie in splashy shades of pink. He leapt, gazelle like, onto the stage of NFT 1 and promptly stole the show. His wit, generosity and supreme skills will be missed. We shall not see his like again. Our thoughts are with Mary his widow, his three sons and the grandchildren.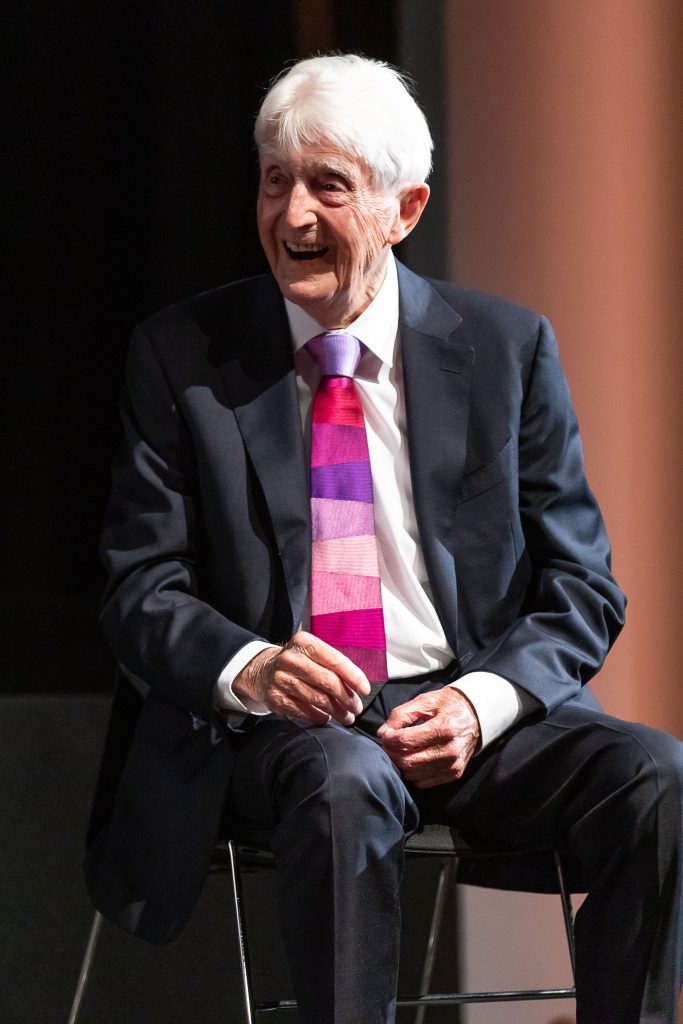 Michael Parkinson at BFI Southbank for an Alan Whicker centenary event in August 2021. Credit: Tim Whitby/BFI.