The 10 Best Documentary Events in the UK and Ireland This September
September is shaping up to be one of the most eventful months of the year for documentary film and radio fans. From screenings in strangers' homes to 24 hour film competitions, we've got it all here as always.
Saturday 3rd-Sunday 4th September
London
Wotever DIY Film Festival
Established in 2012 by queer arts and performance collective Wotever World, Wotever DIY Film Festival is a free two-day film event showcasing the best of low-budget films by the LGBTQIA+ community. Pioneering and subversive in its selection, guests can enjoy both narrative and documentary film as well as drinks receptions, networking events and an opening party night to end all others (Femmes on Film Saturday 3rd September from 9.35pm). We're looking forward to director Celia Wickham's Natura, on her relationship with her mother as they move through the waves of chronic mental illness and explore the relationship between love and trauma. On Thursday the 8th September, Wotever World returns with a screening of extraordinary doc Intersexion, on the often misunderstood experiences of the intersex community, following those born with ambiguous genitalia out-with the typical-male and typical-female categories.
Ticket Price: Free, pre-register for individual events and screenings here on Eventbrite
DIY Wotever Film Festival, Saturday 3rd-Sunday 4th September, DIY Space For London, 96-108 Ormside St, London SE15 1TF 
Saturday 3rd-Wednesday 7th September
London
The Smalls Film Festival, London
The Smalls Film Festival has been at the forefront of the short film industry for 11 years. Beginning on Saturday 3rd September with the festival's official selection of student shorts from around the world, guests can enjoy a programme of both emerged and fresh film talent. The main documentary events include panel discussion "How to Produce Effective Social Change Documentaries and Docu-series" on Saturday 3rd September, directly followed by the official selection of documentary shorts. Films from the selection include director Andy Smith's drama/doc combination Holes in Their Souls, the story of two men in Merseyside who conned thousands of people in to giving away their socks for 'charity' and Ruth Grimberg's Some Will Forget, on the defeat of the Miner's Strike in one village in South Yorkshire.
Ticket Price: Full Festival Pass: £40, Day Pass: £7-10, Per Ticket: £5, purchase here 
The Smalls Film Festival takes place Saturday 3rd-Wednesday 7th September at Hackney House, 25-27 Curtain Road. London EC2A 3LT
Saturday 3rd September
Manchester
Climate Flicks Screening: Cowspiracy: The Sustainability Secret
Manchester Museum continues its climate change exhibition series this October with a screening of widely talked about environmental doc Cowspiracy. Branded alongside Earthlings as a so-called 'vegan-maker', Cowspiracy follows the story of a young environmentalist as he searches for the truth behind global climate change. Seeking answers from major industry bosses and climate change charities, filmmakers Kip Anderson and Keegan Kuhn soon realise that the issue is more complex and concealed than they had previously imagined. Can cows be causing more pollution than the entire transportation industry combined? Head along to one of Manchester's most cutting-edge museum spaces to find out…
Ticket Price: Free, pre-register here
Climate Flicks Screening: Cowspiracy: The Substainability Secret, Saturday 3rd September, 2pm-4pm, Manchester Museum, The University of Manchester, The University Of Manchester, Oxford Rd, Manchester M13 9PL
Sunday 4th September
London
BFI and Southbank Centre's Africa Utopia Present: Afripedia
An e-zine, fashion and photography platform as well as a documentary and music hub, it's impossible to place Afripedia in to one distinct category. Championing a creative, contemporary image of Africa and its people detached from tired stereotypes, the first production from this cross-media initiative is a 5 part documentary series being screened by the BFI and Southbank Centre in collaboration in September. The series visits a number of towns and cities from Ghana to Angola, following artists aiming to develop and revolutionise the African aesthetic and empower the social voice of its citizens and diaspora. Creatives at the forefront of their fields, including performance artist Serge Attukwei Clottey and 3D animator Andrew Kaggia, tell their stories and walk viewers through the unique worlds of today's Africans. Watch the trailers here and come along to the screening at BFI Southbank on the 4th of September.
Ticket Price:£10.65 (£8.65 concession), purchase here
BFI and Southbank Centre's Africa Utopia Present: Afripedia, Sunday 4th September 4pm, NFT3 at BFI Southbank, South Block, Belvedere Rd, London SE1 8XT
Image Courtesy of Afripedia
Friday 9th September
Bristol
The RadioCinema
Radio collective In the Dark returns this month with a somewhat unusual event at Cube Cinema in Bristol. The RadioCinema is a communal listening evening of purely audio material broadcast from inside a traditional cinema space, audiophiles will hear voices from all over the world telling their stories and delving in to their roving imaginations. A mixture of both factual and narrative audio pieces ranging from art house to sci-fi, this event is an adventure for the ears and the mind's eye only. Tickets can be purchased here on the In the Dark website, and radio lovers should be sure to book soon as this is sure to be a sell out event.
Ticket Price: £5/£4 concession
In the Dark Presents: The Radiocinema, Wednesday 7th September at 8pm, Cube Cinema Dove St S, Avon, Bristol BS2 8JD
Ticket Prices:
Friday 9th September
Edinburgh
Screening: March
In March 2015, over one hundred women from entirely different religions, backgrounds and walks of life took to the streets of Glasgow in an extraordinary public art display. Now known  simply as 'the March of Women', the event was part-play, part-demonstration, performed in celebration of powerful women both past and present. Taking inspiration from Cicely Hamilton's A Pageant of Great Women as well as the suffragette movement to draw light to the often hidden achievements in women's history, the play was a testament to the collective voice and strength of Scotland's women and girls. March is a documentary collaboration from Glasgow Women's Library and Royal Conservatoire of Scotland following the preparation and production of this historic day,  screening in Edinburgh's George Square on Friday 9th September at 6pm.
Ticket Price: Free, pre-register here 
Screening: March, Friday 9th September 6-8pm, Screening Room (G.04) – 50 George Square, Edinburgh, EH8 9LH
Thursday 15th September
Manchester
Screening Life of a Mountain: Blencathra
Praised for its stunning cinematography and dramatic English scenery, Life of a Mountain: A Year on Scafell Pike was a huge success when it was first broadcast on BBC Four in 2014. Using England's highest mountain Scafell Pike as its dynamic setting, the documentary follows the lives of the farmers who live and work in the surrounding valleys, part of an ancient English tradition of mountain dwellers and their families. The anticipated sequel documentary Life of a Mountain: Blencathra is being screened in Manchester this month, this time finding a new setting in one of the most northernly peaks in the Lake District. Tell your friends you'll message them back later, turn off your phone and delight in the wonder of a natural world this September. The screening will be followed by insights from the filmmaker Terry Abraham and all donations for entry will go to Wasdale Mountain Rescue.
Screening Life of a Mountain: Blencathra, Thursday 15th September 7-8.30pm, Ellis Brigham Mountain Sports, Wellington Mill ,Duke Street, Castlefield, Manchester
Thursday 22nd-Sunday 25th September
Dublin
IFI Documentary Festival
This month the Irish Film Institute presents its annual documentary festival and outdoes itself once again with its rich and gripping programme. The four day festival will screen some of today's most rousing films including How to Diffuse a Bomb: The Project Children Story, a documentary on the 20,000 catholic and protestant Irish children who were offered the chance to escape their violent surroundings during the troubles in the 1970s to spend their summers in Suburban USA. Other exciting additions include Kirsten Johnson's Cameraperson, a film memoir spanning decades, and The Lovers and The Despot on Korean leader Kim Jong-Il's kidnapping of a young celebrity couple from South Korea as a means to spur on his burgeoning filmmaking career. For a full list of this year's docs you can find the festival programme here on the IFI website.
Ticket Price: €10.50 (€15 opening Night Film including Reception) book here 
IFI Documentary Festival, Thursday 22nd-Sunday 25th September, Irish Film Institute, 6 Eustace St, Dublin 2, Ireland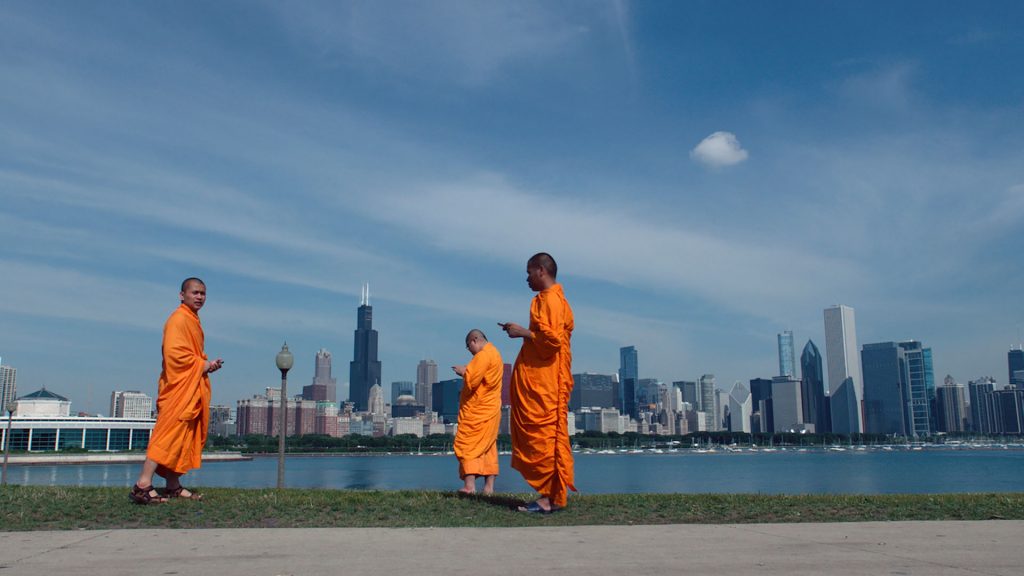 Saturday 24th September
Glasgow
Radical Home Cinema Screening: Artful Dodgers
Here at Whicker's World Foundation we love a good movie night, but we can safely say that we've never had one at a stranger's house. Glaswegian doc fans have the opportunity to do so this month, as experimental exhibition event Radical Home Cinema returns with a screening in one of the city's most iconic landmarks: Barras Market. Scotland's take on the quintessential Parisian marketplace, visitors can pick up all sorts of bargains from questionably counterfeit DVDs to assorted bric-a-brac plucked from dusty attics across the city. This September Glaswegian Youtuber Mr Glasgow will open the doors to his barras shop for an exclusive screening of Artful Dodgers: a part-documentary, part-comedy drama on the gentrification and 'hipsterizing' of the market and its traders. Another Radical Home Cinema event will take place earlier in the month on Tuesday 22nd September with a double-bill screening of documentary Reclaim the Streets, on the 90s protest group who campaigned for the community ownership of public spaces and Still We Ride, about the Critical Mass bike rides in America. The venue for this event will be announced on the night, with viewers meeting at 6.30pm at Kelvinbridge subway station, more info here.
Ticket Price: Free
Radical Cinema: Artful Dodger, Saturday 24th September 7pm-9pm, GEAR Auctioneers, 72 Moncur St, Glasgow G40 2SL
Saturday 24th – Sunday 25th
London
London Documentary Network Competition: Doc in a Day
London Documentary Network's competition Doc in a Day returns for its sixth run at the end of this month. The concept is simple: on Saturday at 11am the theme will be revealed to all participants who must then produce a documentary on that theme in time for the 11pm deadline the very next day. The size of the group is up to the entrant, with groups of between 3 and 4 recommended. The  films will then be screened at an event in Cafe 1001 in Shoreditch on Thursday the 6th of October where industry professionals including director Thomas Meadmore (How to Lose Jobs & Alienate Girlfriends) will be present to judge and announce the winner. Previous themes have included passion, colour, time and space, so filmmakers can expect an equally enigmatic concept this time round. The screening event is free and open to all, entrant or not, and promises to be an eclectic mix of stirring short docs to suit all tastes.  Follow these links for more info on both the competition and the final screening event.
London Documentary Network presents Doc in a Day,  Saturday 25th September at 10am at The Southbank Centre, Belvedere Rd, London SE1 8XX
By Megan O'Hara