Announcing The Whickers' Conecta Bursary Winner 2022
A brand new documentary funding award for filmmakers in Latin America has been created by The Whickers in partnership with the Chilean documentary forum, Conecta. Following the inaugral Whickers Pitch for first time Directors at Conecta last week, we are delighted to announce the winner of this year's £3,000 bursary.
The first Whickers' Conecta Emerging Director's Bursary goes to Homeboys directed by Alonso Garibay and Alejandro Bernal.
Homeboys is set in a rehab centre on the edge of society where former gangster Roberto attempts to support criminals deported from the US  to Mexico, as they try to adjust to a country they don't know and which doesn't want to know them. As a recovering alcoholic and drug addict who had to leave a baby son in America 20 years ago, Roberto is facing his own huge challenges. But helping others overcome their struggles gives him strength to carry on with his work.
Alonso Garibay, Director of Homeboys said when he heard the news: "I'm really grateful to The Whickers for this award.  I'm from Mexico and sometimes it is rough to have support in this issue (in cinema and society in general). We can feel like underdogs. Winning this award is a huge step to realise our dream to tell this story."
Jane Mote, Editorial Consultant at The Whickers said: "Homeboys is an extraordinary story that gives us unique access to acts of humanity on the edge of society in Mexico. Alonso Garibay and his co-Director Alejandro Bernal, are  very talented with a strong creative flair and passion for their subject. Alonso's pitch won the hearts and minds of everyone in the room. I hope this bursary and the support that comes with it will help to ensure this film's success."
Diego Pino, Executive Director of CCDoc said: "This is the first time that we have a Pitch at Conecta and what better to do with The Whickers, a fund that seeks to promote first works by emerging filmmakers and that for the first time focuses on Latin America. We are proud and happy with the results, as we feel that we were able to provide a broad overview of Latin American documentary production, and that the award really served to enhance a story that is as powerful as it is unique. We are grateful to The Whickers for trusting Conecta and for betting on the stories that are born in Latin America."
We would also like to congratulate and thank the other Directors who shared their projects and stories during the pitch. We were overwhelmed by the commitment and creativity of these talented emerging filmmakers, and we cannot wait to see what they do next.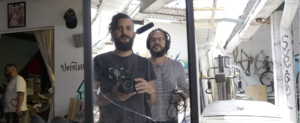 (Above: Co-Directors of Homeboys Alonso Garibay and Alejandro Bernal).
About CCDoc
Since 2010, the Chilean Corporation of Documentary CCDoc (CCDoc) has worked to promote Chilean documentaries inside and outside the country, enhancing the commercialisation, distribution and internationalisation of local non-fiction films and series. The CCDoc fosters the prospects of Chilean films in international markets and coordinates the presence of delegations of Chilean producers, with the goal of creating networks, promoting new windows for marketing and distribution, both within and outside of Chile.
In order to open a market meeting in Chile focused on non-fiction, Conecta was created. Conecta is an international industry meeting that brings together Latin American producers with distributors, exhibitors, sales agents, programmers, channel representatives, festivals, markets and funds, domestic and foreign. Conecta looks to strengthen ties between the documentary communities in Latin America and promote Chile as a window of opportunity for audiovisual production in the continent. It held a hybrid week-long event from December 12-16 in Santiago with 29 projects from 11 countries participating.

For more information visit:  CCDoc https://ccdoc.cl/ / Conecta https://chileconecta.cl/ / Chiledoc https://www.chiledoc.cl/